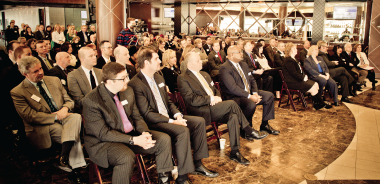 Educational Events
Talent Town Hall
Offered by leaders in education and human resources, Talent Town Hall provides quarterly updates on issues impacting area employers. A panel presents each topic, allowing for Q&A and plenty of time to meet new business contacts.
Women's Leadership Events
Featuring leaders in their field, our leadership luncheons are popular with those looking to be inspired. Speakers include media personalities, heads of government and executives making a positive impact on our community. These are must-attend events.
State of the Community
Our annual community update includes a message from the Mayor of Auburn Hills, and updates from City and Chamber leadership. A Community Expo is also featured, showcasing the many non-profit organization that enrich the lives of others. Held at the Palace of Auburn Hills.
Economic Development Roundtables
These free events are held at City Hall as a way to update the business community about economic development projects on a bi-annual basis. The roundtables allow members to ask questions and learn about projects which enhance our world-class community.
Bullseye Business Conference
Oakland Chamber Network's Northern Region collaborate to produce a morning-long conference each fall, focused on marketing and business development. Dynamic speakers educate and inspire. Event includes plenty of networking time and refreshments.
For more information, check out this Bullseye Business Conference video.
Membership 101
Current and prospective members interested in learning more about the Auburn Hills Chamber are invited to our free Membership 101 event. Here, the Chamber's Executive Director discusses the features and benefits of the Chamber.